The hotel
Sorsanpesä wants to offer its guests moments to remember and a touch of luxury in their everyday lives.
With us, you can stay in stylish rooms, enjoy good food and drink while admiring the beautiful view of the river or organize a successful conference, training or some other important event, such as the wedding of your dreams! You can also come here to enjoy yourself, our relaxing evenings and the offerings of our restaurants..
With us, you can indulge yourself or organize a refreshing workplace wellness day for your company staff. Around the hotel, you can get some fresh air, exercise, hike and enjoy nature. From the hotel, you can also easily visit travel destinations in South Ostrobothnia!
Sorsanpesä has good traffic connections, so the hotel is easy to find. There is also a large parking area outside the hotel that is free for our guests. The icing on the cake of the hotel experience is the unique atmosphere and professional staff who are genuinely interested in our customers.
We wish you a warm welcome!
History
Sorsanpesä was built by Matkaravinto Oy in two parts. The first part was finished in 1971 and the second in 1975. The circular hotel was designed by architect Kauko Tiihonen. In the fall of 1989, an extension was completed when a new wing designed by Touko Saari from Joensuu was added to the circular hotel building. During the extension, all the rooms in the circular part were also renovated, and all the restaurants at the hotel were given a new look.
Sorsanpesä's current interior design that was revamped in the 2010s is by Jaakko Puro with its stylish hotel rooms, elegant restaurants and modern conference spaces.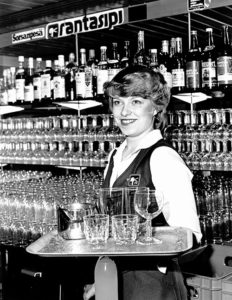 Hotel Sorsanpesä
Törnäväntie 27
60200 SEINÄJOKI
Hotel Sorsanpesä on the map